We are proud to share with you our first guest blog post from Rhiannon, a designer living in Los Angeles and a passionate blogger. Rhiannon describes her blog as, "a way of sharing the elements of design that I think are exciting and inspiring." We all yearn for a place that reflects our own personality and Rhiannon tells us exactly how to achieve this in a quirky and slightly unusual way...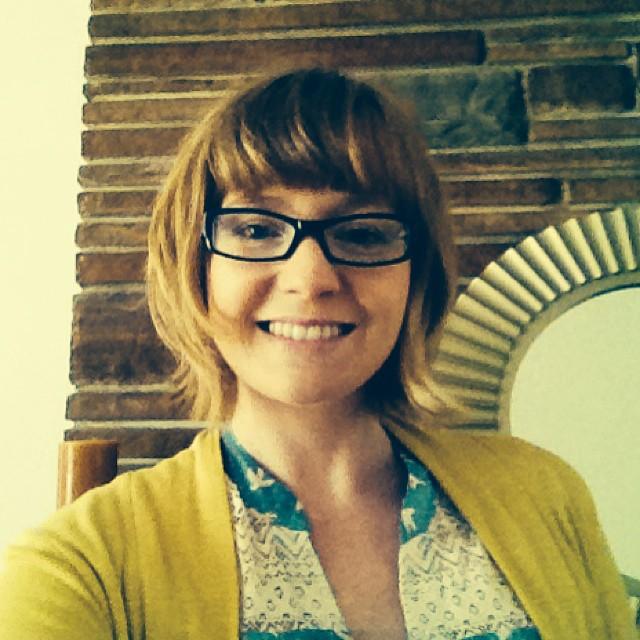 Are you clueless on how to use wallpaper in your home? Or do you have a leftover roll that you just can't bear to throw away? The possibilities are endless when it comes to using wallpaper to spruce things up around your house. Here are 5 simple solutions on how you can refresh your home – all it takes is a little creativity!
1. One Accent Wall or Ceiling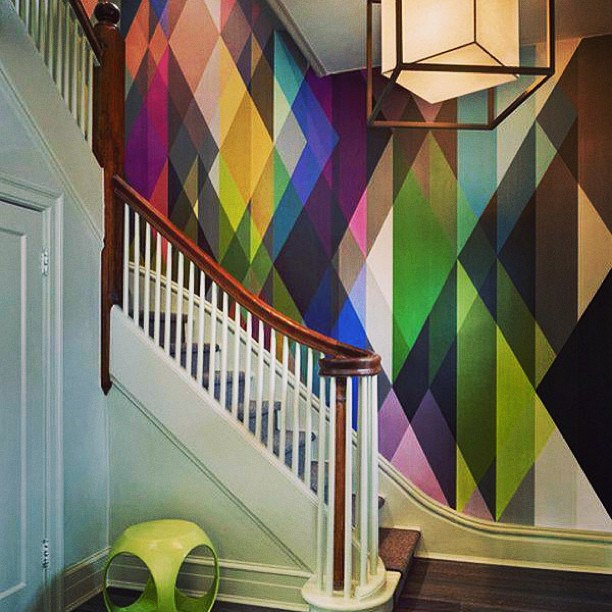 A multicoloured geometric print with itricate patterns and vivid graphics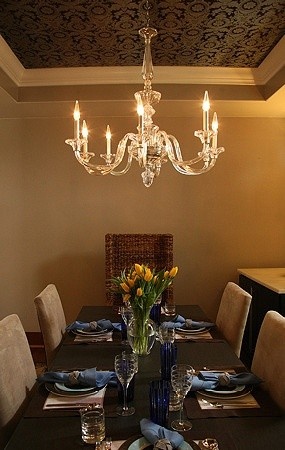 Sophisticated, stylish and truly opulent
I believe if you get a print that is decorative and dramatic enough, all you need is one single wall that can get some major attention. If you're doing it this way I say go big, and really make a statement. Another way of making a statement is to add wallpaper to your ceiling, this requires some bravery but if done correctly, it can create a dramatic and stylish effect.
2. Create Decorative Panels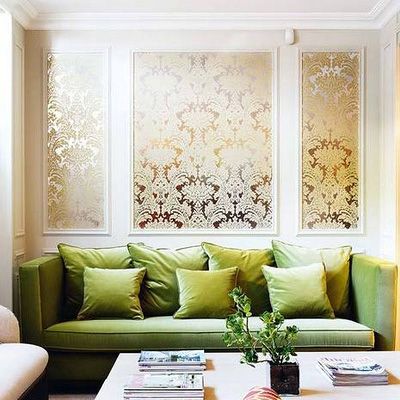 A clever alternative to covering the whole wall
Think about getting some large canvases, and covering them with wallpaper that is so pretty it could essentially double as art. This is a great alternative for those who cannot paint and are forced to do more temporary solutions.
Try using an elegant design such as the 'Flora Wallpaper'. I love the contrast between the bold print and its delicate, quiet design with a touch of shimmer. If you're feeling a little more adventurous, go for a bold and bright design that is sure to bring an array of compliments.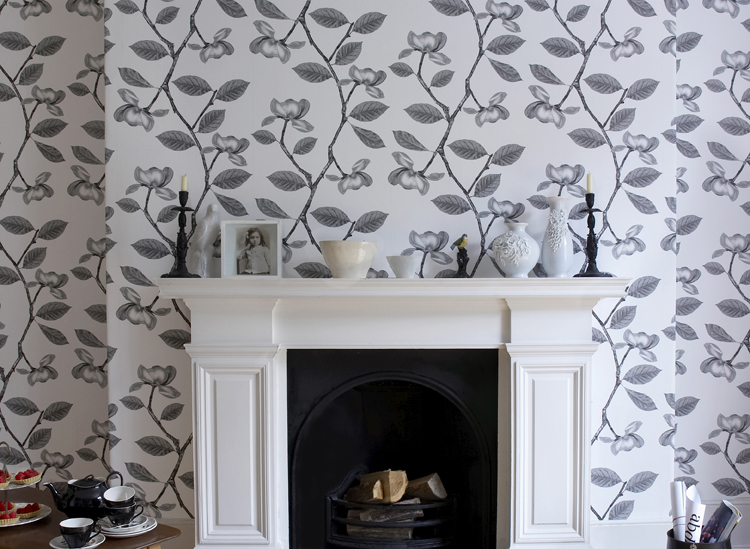 Jocelyn Warner's Flora Wallpaper
3. Use it as a Backsplash
Get durable wallpaper that you can use as a backsplash. This is certainly more cost effective then installing tile. You can really get creative here and find some amazing prints that would give any kitchen a makeover.
4. Create a Background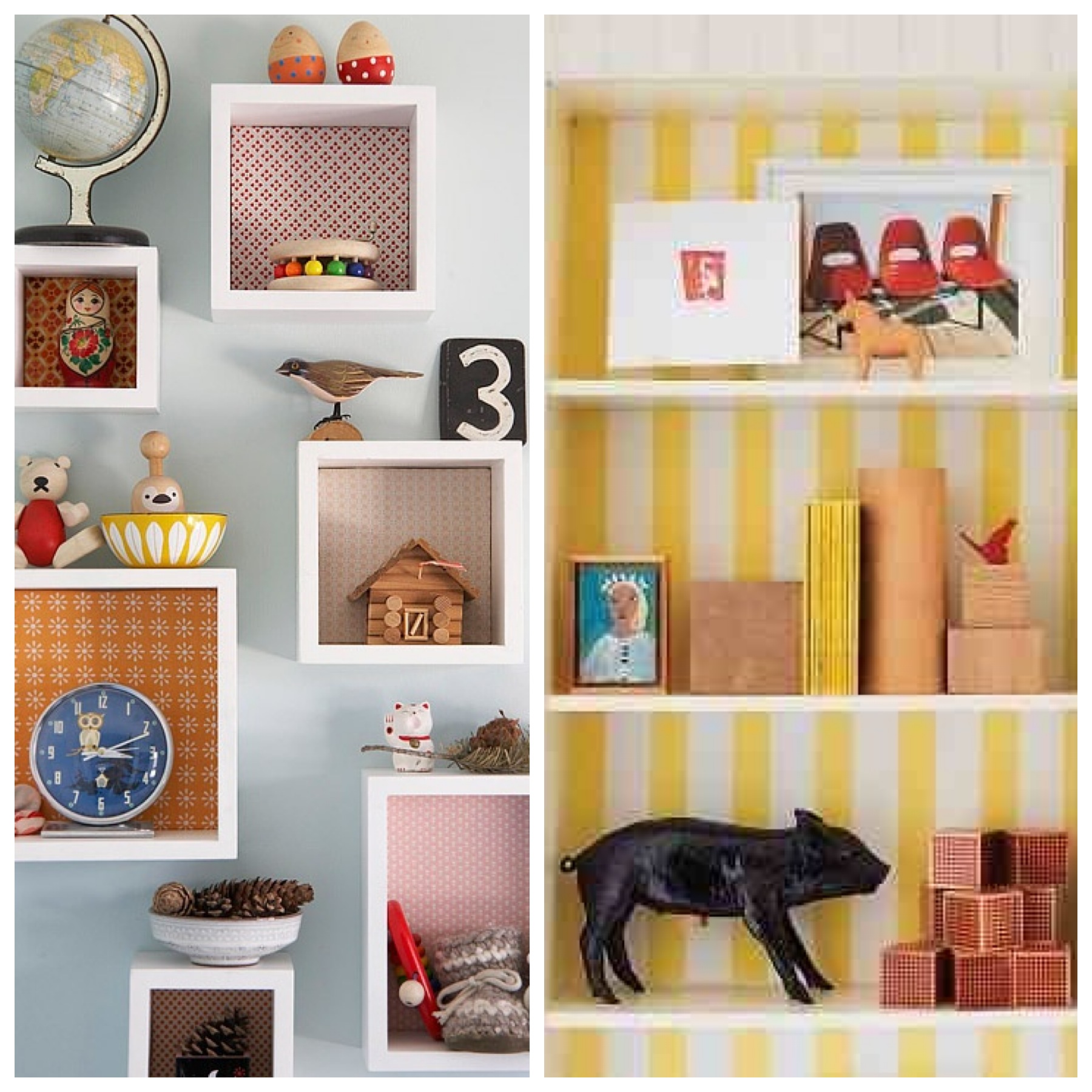 Use wallpaper to line the backs of shelves, medicine cabinets or bookshelves. This can make for a nice accent to a room that would otherwise be bland. This is a simple and safer way of covering an entire wall. The perfect way of achieving this look is to use wallpaper with a great visual effect such as the Chesterfield Button Back Wallpaper and the Wought Metal Gate Wallpaper from Mineheart
Believe it or not, this is a wallpaper print and not the real thing...
5. Use it as a Table Topper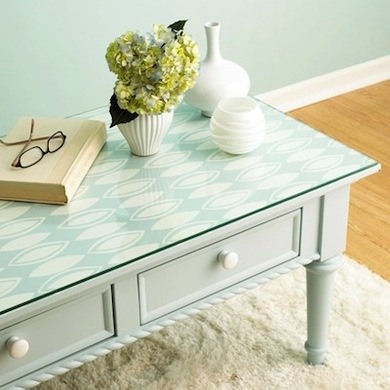 Pastel colours and delicate shapes work best for table top designs
Turn a plain coffee table or dressing table into a work of art using a decorative piece of wallpaper. This will liven up any room and can easily be changed at any time to give an instant refresh.
There are so many different ways to transform your home using wallpaper and we would love to hear what you think. Do you prefer the traditional way of hanging wallpaper or are you more adventurous? Send us your pictures on any of our social networks.
Yours in Design,
Rhiannon